Get To Know The Eco-Friendly CE-330 Waste Oil Furnace
Businesses that generate used petroleum products in their day-to-day business operations can save a significant amount of money on their energy costs by converting to waste oil heating.
With a waste oil furnace, you can burn certain fluids you would otherwise need to pay to dispose of and turn them into free heat for your facility.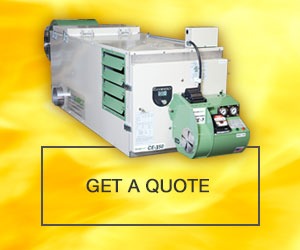 At Clean Energy Heating Systems, we develop our waste oil furnaces with innovative features that maximize their cost-saving benefits. With four different sizes and capacities, they meet the needs of businesses large and small. Our waste oil heaters burn used automatic transmission fluid, hydraulic fluid, motor oil, and #2 heating oil—or any combination of them.
If you need to heat a large space of up to 9,000 square feet, our CE-330 furnace has the power and reliability to efficiently and effectively do the job.
Learn More About The CE-330 Waste Oil Furnace
The CE-330 is our largest furnace. It's the perfect match for garages with seven or more bays or other buildings of similar size.
Among the many features and benefits it offers are:
Built to resist rust and corrosion – The CE-330's heat exchanger and vertical flue tubes are made from stainless steel to stand the test of time. So they resist cracks, we've designed the flue tubes to be fledged rather than welded. Like all our furnaces, we've built the CE-330 to maximize heat production.
No-hassle cleaning – The CE-330's over center latches make it easy to clean, and the furnace can be opened up without any tools.
Undemanding service intervals – The typical servicing interval is every 1,000+ hours of use. With the CE-330, you don't have to disconnect the oil line to service the heater because we've designed it to provide easy-access to the oil line connector block.
Reliability – You can count on consistent operation because of the CE-330's digital, programmable burner controls.
UL "cold oil start" tested – The furnaces pre-heater with thermostatic control ensures it will start successfully every time.
Space saving – Its dimensions are 111″l x 32″h x 26″w, so it doesn't demand a whole lot of valuable floor space. And by using our Waste Oil Heating Center, which enables you to mount the furnace and tank vertically, you can conserve even more space.
What else should you know about the CE-330?
Pre-assembled, vacuum-tested metering pump, requiring no user adjustment
325,000 BTU per hour output
3,700/85°F, air flow output CFM/heat rise
2.3 GPH fuel consumption
230vac, 60hz, single phase, 30A breaker
8″ chimney outlets on left or right side
Mountable on tank, wall, or ceiling
CE-330 comes with a 10-year warranty and is UL and cUL Listed. We make it right here in the USA. Best of all, it's an affordable investment thanks to various financing options. With an attractive ROI and ongoing savings on heating and waste oil disposal costs, the CE-330 can help improve your business's bottom line.
Want to learn more about the advantage of waste oil heating's benefits. Contact us today for more information about the CE-330 and our other waste oil furnaces, boiler, space-saving heating center, and accessories.