Seven Easy Steps To Making Your Business More Profitable With Waste Oil Heating
To run a successful business, you need to find ways to maximize revenue growth and cut expenses. Energy costs can have a big impact on your profitability—especially when they fluctuate from month to month due to the volatility in fuel prices. The uncertainty of not knowing what your business's heating expenses will be adds to the challenge of managing a budget and maintaining a healthy bottom line.
But if you generate used petroleum products as waste in your operations, you have an advantage many other businesses don't. You have the opportunity to turn your waste oil into free heat for your facility.
By converting to waste oil heating and using a Clean Energy Heating Systems waste oil furnace, you can burn your used motor oil, hydraulic fluid, ATF fluid, or any combination of these fluids and save big on your heating bill.
Ready to make your business more profitable? Follow these seven simple steps to make the change to waste oil heating:
1. Do the math!
Use our ROI calculator to figure out your potential savings. You will likely be amazed at how quickly you'll recover your initial investment.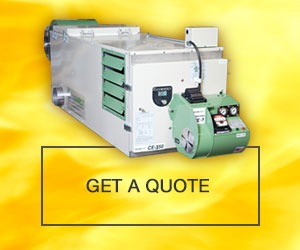 2. Contact Clean Energy Heating Systems to start a discussion. We're just a phone call away to answer your questions and step you through the process.
3. Determine which size waste oil furnace will meet your facility's needs. The size of your facility and the amount of waste oil that you generate are two factors to consider. Fortunately, we make waste oil furnaces in a variety of sizes and capacities that serve small and large businesses. And remember, even if you don't generate enough waste oil on your own to heat your building, you can buy waste oil economically from brokers or supplement your supply with #2 heating oil.
4. Determine where you will place your furnace. Location, location! Decide where you'll locate your furnace so that it can efficiently heat your space without taking up valuable floor space. We encourage using our space-saving Waste Oil Heating Center, which allows you to vertically mount your furnace and EPA-approved storage tank. It even has a built-in funnel with a strainer to make it super easy to fill your tank.
5. Have your waste oil heater installed. After all your questions are answered, and all the paperwork is done, we can coordinate your installation to best suit your schedule and not interfere with your business operations.
6. Contact your waste oil disposal company to let them know you will no longer need its services. Not only will you save on your heating expenses with a waste oil furnace, but you will also eliminate the costs associated with paying an authorized third-party to dispose of your used oil.
7. Save money and boost profitability. This is the best step of all. As soon as you start using your used oil as free heat for your business, you're on your way to making your company more profitable.
Ready to learn more?
Contact us for additional information about how waste oil heating can increase your profits by cutting your company's energy costs.