Save Big On Heating Costs With The CE-340 Waste Oil Boiler
Waste oil heating offers an effective way for companies that generate used petroleum products in their line of business to save big on their energy costs.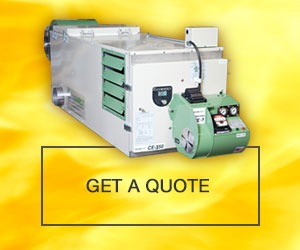 With a waste oil heater, you can burn used automatic transmission fluid, hydraulic fluid, motor oil, and #2 heating oil—or any combination of them—to produce free heat for your facility. This also eliminates the cost and headaches of disposing of your used oil. Waste oil heating is an EPA-compliant way to get rid of used fluids.
In addition to our waste oil furnaces, Clean Energy Heating Systems also makes a state-of-the-art waste oil boiler. Our CE-340 boiler enables businesses to create free hot water for radiant heat or other purposes by burning waste oil. Compared to traditional boilers, you'll find this high-mass/high-volume boiler is clean, safe, and designed to effectively cut energy costs.
Why You'll Want to Learn More About the CE-340 Waste Oil Boiler
This ASME-certified and UL/cUL listed boiler has a long list of features and benefits you and your business's bottom line will love. The CE-340…
Maintains a more consistent water temperature than other boilers on the market.
Operates more efficiently and retains heat better than other popular boilers.
Resists rust because of durable steel components.
Guards against deterioration and hotspots because it's a wet base fire tube boiler.
Has front and rear doors that open for straight-through cleaning without removing the stack.
Has straight-through flue tubes that reduce ash buildup, allowing for longer intervals between cleanings.
Offers approximately 335,000 BTU/hour input and 275,000/hour output.
Has a 2.4 GPH fuel flow rate and 65-gallon boiler water volume.
Has a burner with interrupted duty ignition.
Best of all, we help make it an affordable investment thanks to various financing offers available from our partners.
For more detailed specifications, contact us today. We're hear to help you decide if waste oil heating is the right choice for your business and to answer all your questions about the CE-340 boiler and our other waste oil heaters and accessories.