The Perfect Solution For Making Room For a Waste Oil Furnace
If your business produces used petroleum products in your everyday business operations, chances are you're well aware of the energy-efficient, cost-saving benefits of waste oil heating. But where could a waste oil furnace fit in your facility without taking up a lot of valuable floor space?
At Clean Energy Heating Systems, that's a concern we hear often from customers before they learn about our Waste Oil Heating Center.
Our Waste Oil Heating Center keeps all elements necessary for our waste oil furnace in a compact area. A self-contained unit, it allows you to reap the benefits of waste oil heating without claiming the floor space you need for other purposes.
Its durable steel frame mount is made to hold an EPA-approved oil storage tank and any one of our waste oil furnaces. By allowing you to mount all components vertically, it fits well even if space is tight in your facility. Its dimensions are 65 inches wide, 98 inches high (without furnace on top), and 30 inches deep.
It makes installing a waste oil furnace simple, too, because you don't have to worry about where to run tubing to get your waste oil from the oil tank into the furnace.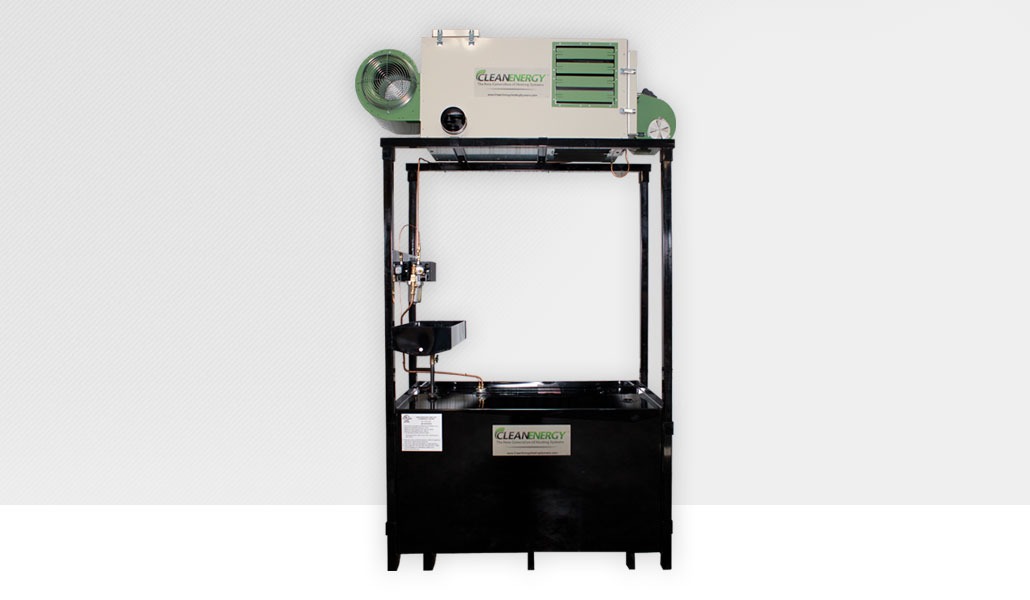 The Clean Energy Heating Systems Waste Oil Heating Center Comes With…
Steel frame mount
Powder coated 250-gallon oil tank
Copper tubing and fittings for attaching tank to furnace
Drain pan, funnel, and strainer
Mounting bracket for pump
Note that the furnace itself is available separately
Don't Let Lack Of Space Keep You From Saving On Your Energy Costs
With our Waste Oil Heating Center, you have no reason to let space constraints keep you from cutting your heating costs. Contact us today to learn more about this space-saving solution and our state-of-the-art, American-made waste oil furnaces.